The Algarve, Portugal Takes Top Honors Yet Again!
For the fifth year in a row, The Algarve remains the best place in the world today to retire overseas.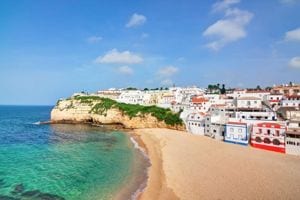 But what is it that makes the Algarve so special? The weather is a good place to start. There is sunshine throughout the year and the winters are short and mild. You will never have to shovel snow again. The Algarve receives over 3000 hours of sunshine per year. From May until the end of August there are 12 hours of glorious sunshine per day. The expat community is well established and welcoming.
The medical facilities and health care are affordable and high quality with two major hospitals close by. There are undervalued properties, including ocean views available to suit all budgets. English is widely spoken, thanks to the longstanding British presence. The infrastructure is first class, and you can easily get around the Algarve. The well maintained roads allow for easy access to the rest of Portugal and into the rest of Europe. Portugal's retiree residency program rolls out the welcome mat for foreign pensioners who they are attracting in greater numbers each year. The Golden Visa process has also been made. Source: Liveandinvestoverseas.com